I'm always looking to expand my knowledge of helpful tools, and perhaps add a few new toys to my toolbox. So I reached out to 24 seasoned veterans in the industry to see what their one or two "must-have tools for doing typical maintenance work" are.
Prior to embarking on this project for Adventure Park Insider, I assumed that what I consider essential may or may not be what my peers have hanging from their gear racks. And after speaking with these professional installers, inspectors, and maintenance technicians, I learned that assumption was correct.

My must-haves are a properly fitted and padded full-body harness, my ISC rope wrench ascender kit, and my VIM hammer wrench. But thanks to my peers, I now have a few new reasons to grow my tool box and hang a little extra weight on my hip the next time I climb up a pole, replace an activity, or maintain a zip line.
So, what are the "must have" tools for some of the industry's most experienced people? Let's find out.
SCOTT ANDREWS, NORTHWEST TEAMBUILDING:
CRESCENT WRENCHES
"I carry two 12-inch crescent wrenches when I'm out on a course. Having just these two wrenches gets me through a variety of bolts and nuts, both metric and imperial, without the extra weight of a full set of wrenches, or double ended wrenches."
HANK BACKOFEN, FOURTH CLIFF ADVENTURES:
SPUD WRENCH
"I do a lot of indoor work and work with steel, and hands down my must-have tool is the most powerful tool known to man: my spud wrench. It's the first tool I reach for. With a crescent wrench on one end and a centering spike on the other, no self-respecting iron worker would be caught dead without one."
RYAN DIETRICH, EXPERIENTIAL SYSTEMS:
LEATHERMAN MULTI-TOOL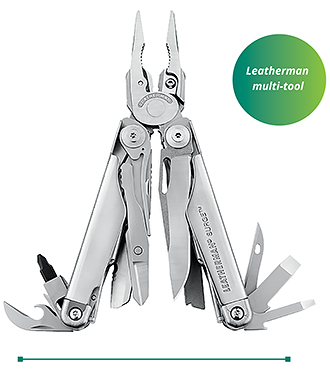 "My Leatherman Surge multi-tool. I feel naked without it on a jobsite. Without exaggerating, this tool has saved the day too many times to not have one."
TODD DOMECK, EXPERIENTIAL RESOURCES:
SMARTPHONE
"My smartphone. It almost does everything these days. Not only can I use it to take pictures, GPS locations, estimated elevations and measurements, but I can also call a friendly competitor or consultant when I have an immediate question, send them a photo, and work through the issue or solution. I'm probably twice as effective in the field as I was with a flip phone."
KENNERLY DEFOREST, CHALLENGE WORKS:
ADJUSTABLE WRENCH
"My 12-inch adjustable wrench with a hammer plate. This tool lives on my harness."
KEVIN FRENCH, CHALLENGES UNLIMITED:
VISE GRIP SET
"A small set of vise grips is a must-have for challenge course projects. It comes in handy more often than not."
BRIAN BRUN, EXPERIENTIAL RESOURCES:
12-TON CRIMPER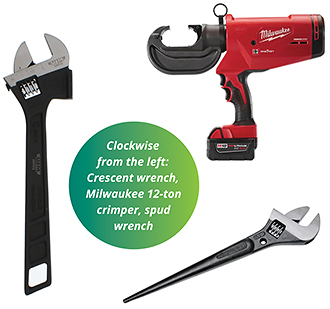 "Milwaukee 12-ton crimper. Besides being a great pistol grip swager, it's been an asset to have a single tool and battery platform. An added benefit is being able to run job reports on the number of crimps and the success of each one meeting the required PSI. Additionally, the smart technology prevents it from starting a crimp if it can't finish the compression. And if stolen or missing, we can lock out the tool from use by others."
DAVE HORAN, ADVENTURE DEVELOPMENT TEAM:
RANGEFINDER AND VISE GRIPS
"The TruPulse 200 rangefinder and a set of vise grips. The rangefinder really is a must-have tool. I can measure distances of up to 6,000 feet with a reflective marker, and the tool measures slope distance, inclination, and calculates vertical and horizontal distances with the push of a button. The vise grips, while not the best tool, are the most versatile grabber in my bag, from removing broken screws to gripping an odd size nut or bolt up to two inches in diameter."
ANDREW HUBERT, CHALLENGES UNLIMITED:
FIFI HOOK
"My must-have tool is part of my climbing rig. My adjustable Fifi Hook. It's never used for fall protection, but it's amazing for quick and frequent positioning. I don't leave home without it."
DAVID HUMPHRYS, ELEVATION AERIAL DESIGN AND CONSULTING:
SPUD WRENCH AND CRIMPER
"It depends on what the maintenance task is. Traditionally I would say my adjustable spud wrench. The adjustable head has a throat opening of up to 1-5/16 inches, and I can wrench down on any size bolt up to 7/8 inch diameter. The only thing better than one spud wrench is two, for those stubborn galvanized threads.
The other must-have tool is my new Milwaukee crimper with ForceLogic. This swager has the ability to print reports on how many crimps I did each day as well as the tool's health. The data end of the tool makes for great reports and reassurance on the strength of my crimps. It may not be my favorite, but it's the best tool I have ever purchased."
NAT JOHNSON, EXPERIENTIAL SYSTEMS:
BATTERY-POWERED CHAINSAW AND AUGER BITS
"My Makita 14-inch battery-powered chainsaw and a set of M.K. Morse auger bits. After years of being let down by loud and fussy gas-powered saws, there's nothing like the soft quiet sound of a battery chainsaw starting when you depress two buttons simultaneously. It starts every time (if charged)!
The M.K. Morse double cut auger bits are probably the best made and highest functioning auger bits on the market. The 36-inch length allows me to get through two pole butt-ends at once, and the double fluting allows the chips to flow out cleaner with less reaming of the hole."
RICHARD KLAJNSCEK, SEA FOX CONSULTING:
ADJUSTABLE WRENCH, SWAGE GAUGE, AND SMARTPHONE
"While my must-have tool depends entirely on the type of course and the style of construction, I would have to say that a good adjustable wrench and a Go-No-Go swage gauge are on me at all times. A good smartphone is additionally critical for notes, photos, and field apps."
VALDO LALLEMAND, AERIAL DESIGNS:
HARNESS
"My harness: I use the Petzl Sequoia with top harness. The extra wide, extra padded waist and leg loops make this a great harness for hanging in, and hanging lots of other tools from."
JOHN LAZARUS, NORTHEAST ADVENTURES:
BATTERY-POWERED SWAGER
"I don't have a favorite, but I do have one I appreciate the most. Over 30 years I've used four different types of swagers at height: Manual swager, pump swager, electric swagers with remote heads, and handheld battery swagers. Every time I use the battery operated swager I appreciate how easy it is to swage using my index finger rather than squeezing a three-foot handle against my chest, or pumping a hand pump 30 times per compression. And the weight of a battery swager beats hoisting a 25-pound pump with a six-foot hose around a course."
RYAN OLSON, ABEE:
CAMERA/SMARTPHONE
"A camera to document my inspections or work progress. I use my phone a lot for this, too."
JASON LINDSEY, MONKEYPOD DESIGNS:
BATTERY-POWERED RIGHT-ANGLE DRILL
"A Dewalt 60 volt half-inch right-angle drill. Best drill I've ever used for drilling larger diameter holes in trees or poles. Strong and steady consistent power that won't twist your arm off."
ERIK MARTER, SYNERGO:
TENSION METER
"My Dillon Quick Check tension meter is probably the most important tool I have for working on zip lines. I find it indispensable in fine tuning a zip line. A zip line is like a mandolin or other stringed instrument—if the strings are out of tune, the music won't sound good. Same for the zip line and guy wire systems—if one wire is out of tune, the ride won't function properly."
DON NAGY, EXPERIENTIAL SYSTEMS:
SIGHT LEVEL
"A good sight level. So much of what we build covers large spans. Whether I'm doing a site visit, a new installation, or maintenance, the ability to quickly assess relative level allows us to quote projects more effectively, and install clean, attractive products that are over 50 feet tall and 300+ feet long."
DENNIS QUEENS, AMERICAN ADVENTURE PARK SYSTEMS:
BATTERY-POWERED RIGHT-ANGLE DRILL
"I just upgraded to the Milwaukee M18 battery-powered Hole Hawg right-angle drill. I swear it is lighter and works better than the corded version it replaced. The battery life has exceeded expectations for drilling into poles and trees, and I don't feel like I'm going to break my wrist if the bit jams."
CORY REAMER, ADVENTURE DEVELOPMENT TEAM:
HIGH TORQUE IMPACT WRENCH
"My ½-inch Milwaukee M18 high torque impact wrench. Not only do I use it to tighten nuts and bolts, but when outfitted with an auger bit, it becomes one of the best drills I've ever used for working in trees and poles."
CARSON RIVERS, CHALLENGE TOWERS:
POCKET KNIFE
"A pocket knife is a must-have for anytime I'm doing maintenance or an inspection. While I own many pocket knives, I'm currently sporting a Petzl Spartha folding knife that I picked up from Aerial Adventure Tech. I really love that I can clip the knife to almost any carabiner and store it out of the way, instead of in my pocket where it always seems to get caught under my harness strap when I'm hanging."
DON STOCK, THE ADVENTURE GUILD:
SLIDING COMPOUND SAW
"I love my 12-inch sliding compound saw. We do a lot of tree work, and the decks are gifts that keep on giving when the trees grow. Just about every two years tree platforms need some adjustment, and the compound miter saw cuts just about every size board I need."
NICK REDINGER, CHALLENGE WORKS:
WRENCH SET
"I have to say, a good set of wrenches. I like a double-ended box wrench with a ¾-inch and 7/8-inch head. The box wrench works on any length threads, unlike socket wrenches. And the hole on the 7/8-inch end fits right onto a carabiner on my gear rack. The other wrench I carry is my adjustable hammer wrench. This was the best tool out there when I first saw it. I had been going through wrenches several times a year from using them as a hammer. So when I saw an adjustable wrench designed to be used as a hammer, I fell in love."
JOSH TOD, ROPE WORKS:
BLUE SMASHER WRENCH
"My Blue Smasher [Klein Linemans Wrench]. It's not just one of my must-have tools, but it's one of the oldest functioning tools I own. Nothing prevents this wrench from working but the user. The hole on the wrench—besides being a good place to connect it to a carabiner on my harness—is also the exact size of a removable pole step lag bolt. And this tool, with no moving parts, makes a great hammer when in a pinch."