Adapting to the realities of the Covid-19 pandemic has been an unexpected challenge for everyone in the adventure park industry. But some parks have been able to leverage social-distancing requirements into more efficient and profitable operations. As we plan for another season amid the ongoing pandemic, the following examples can inspire more operations to turn challenge into opportunity.
One recurring theme: Operational limitations can translate into improved capacity management and a better guest experience in the long term.

LEVERAGE TECHNOLOGY
"Parks used to try to max out capacity," says Megan Langer of reservation software provider The Flybook. "What we found with Covid is that they've had to spread out and force people into fewer [and reserved]start times. That resulted in less chaos at check-in and to parks selling out available start times."
More options. Reducing capacity and tweaking reservations for aerial parks and zip lines to comply with social-distancing requirements also accelerated the trend of parks adding or expanding other activities. Historic Banning Mills in Whitesburg, Ga., for example, expanded its mountain-biking and hiking trail networks to spread more people out.
This trend has a variety of benefits, says Langer. "It helps keep locals excited," she says, particularly important at a time when most travel is close to home, "and helps with repeat business." Of course, supportive locals and repeat business are beneficial in normal times, too.
A diverse menu of options also gives parks more opportunity to upsell when tickets are booked. "You can make each activity reservable and pick a time for each," says Langer, pegging reservations to the (Covid-reduced) capacity of each attraction.
Wearables. In addition, scannable wristbands issued to guests can be used to restrict access to different parts of the park and reduce crowding. "From a technology standpoint, as parks add more things to do and people spend more time at parks that are destinations, wearable media is what's coming," Langer says.
Wearables can also be associated with a guest's record and payment method, and used as a means to upsell on-site. For example, with this technology, if a guest wants to buy anything from a bottle of water to a reservation for another activity, staff can simply scan the guest's wristband and it charges the credit card on file—contactless, secure, and easy.
Here's a look at how three parks managed to benefit from social distancing requirements.
RECORD-BREAKING CHANGES
Bruce "Coach" Brown, director of operations and training at Colorado's Royal Gorge Zipline Tours, says that the park's two tours experienced record visitation in 2020.
To prevent crowding and make transportation and staffing as efficient as possible, Royal Gorge changed its start times—all reservations on the "Classic" zip line started on the hour, and all "Extreme" zip line reservations on the half-hour. To encourage advance purchase—and to upsell—deals were offered to combine zip-line tours with the park's whitewater rafting trips.
Reduced crowding. Reservation slots
for the zip-line tours were available from 8 a.m. to 6 p.m. daily, and sold out in advance most days via online bookings. Walk-ins, which might have increased crowding, were sharply reduced as a result.
At check-in, only one person per group was permitted to enter the reception area. Crowding was further curtailed by allowing guests to access and sign liability waivers by scanning a QR code with their smartphones, rather than passing paper and pens from one person to another.
Since both courses require a van ride from the check-in center, vehicle departure times and capacity also were altered. Different groups were placed on different vans, says Brown.
UNUSUAL OPENING
The bad news for The Forge: Lemont Quarries was opening in the middle of a pandemic. The massive Lemont, Ill., adventure park debuted in mid-July 2020 (for more on The Forge, see "The Future of Adventure Parks?" p. 18).
The good news? Attendance exceeded expectations despite a Covid-related 25-percent reduction in the park's design capacity, says general manager Byron Bell.
Guests are required to make advance reservations, and reserve for specific start times. Over the summer, reservations times began at 8 a.m. for guests in the park's membership program, and 9 a.m. for the general public. The park closed nightly at 10 p.m. "Everything we put up sold out immediately," says Bell.
A virtual queuing system using smartphone notifications allowed guests to show up right when their session began, rather than waiting in lines.
Operational tweaks. Because the aerial adventure course is so large—it has more than 300 individual elements and 24 zip lines—The Forge was able to increase from two to eight entry points to prevent crowding. Social distancing was further enhanced by allowing only one guest at a time to occupy course platforms.
Rather than having more than 100 guides stationed around the course, The Forge switched to a fully guided model, with each guide leading a group of four to 10 guests. The change reduced the number of guides needed to operate the course at any given time to 80.
The Forge, part of a 300-acre public recreation area, offers guests a wealth of activities in addition to aerial adventures. There's also mountain biking, outdoor laser tag, hiking trails, and much more. Additional hiking and biking trails, along with an ice-skating venue, were added at the year-round park specifically in response to Covid-19.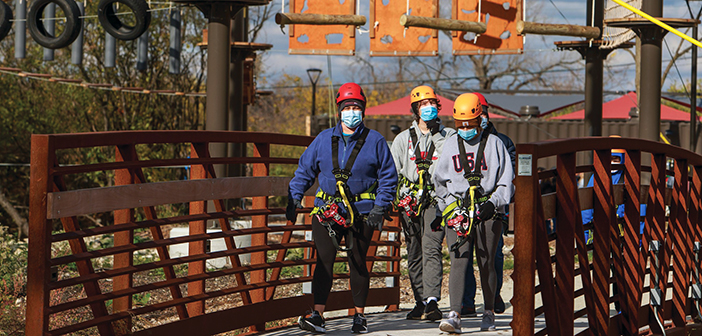 Because The Forge is located on public land, it does not have the authority to restrict the number of people on the property. However, Bell says, visitation was effectively controlled by limiting the number of spaces in the parking area to 350 vehicles. "We did not use the auxiliary lot, so that's where we had traffic control," he says.
Bell says that much of what happened this summer at The Forge reflected the original business plan, with about 10 percent being the result of creative responses to Covid-19.
"We realized that if we reduced capacity, we'd have people waiting a long time for things, so we needed to increase our downtime activities," he says. "It transformed the way we had to think about the guest experience."
CHANGE FOR THE BETTER
A similar transformation took place last season at Treetop Adventure at Snow King Mountain in Jackson, Wyo.
"For the past four years we've said, 'Come one, come all,' believing that if we turned anyone away, we'd lose business," says Snow King chief adventure officer Sue Muncaster. "At any one time there could be 100 guests on the course or seven, but the same number of guides."
Pre-Covid, 25 guests could enter the course every half hour. To ensure proper social distancing while operating during the pandemic, though, the park limited course entry to 15 guests per hour (later increased to 20). The strategy paid off in a variety of ways.
"We sold out all day, every day," says Muncaster. Park revenues increased 10 percent this summer, as did the total number of paid guests. Meanwhile, staffing expenses declined, with six to eight guides operating the course rather than the 10 to 12 that had been scheduled in past years to accommodate surges.
Broad acceptance. Snow King expected some guests to chafe at the increased regimentation, says Muncaster. Instead, guests seemed to embrace the new processes and appreciate the increased Covid safety measures. Revenue growth at the ropes course and zip line was greater than the park's other attractions, which include an alpine slide and mountain coaster.
"I think people knew that the adventure park would be the one thing that was controlled," she says.
Likewise, the park experienced little pushback against other pandemic-related safety measures, such as masks being required in lines, inside facilities, and on the harnessing deck.
"We thought our customers would be a lot more concerned about the Covid protocols than they were," says Muncaster. "We have a lot of rural folks here, but those willing to come didn't blink an eye. I think people were so happy to just be doing something that they did whatever you told them to do, whether they believed in it or not."
Long-term changes. The resort also experimented with offering private time slots for Treetop Adventure, charging $699 for groups of 15 and marketing the deal not only as Covid-safe, but bespoke—a good fit for the park's well-heeled Jackson Hole clientele.
"We didn't have those big 75-person groups coming in this year, but we were able to make up for it by offering these exclusive experiences," Muncaster says.
Rather than being a short-term solution to a crisis, though, Muncaster says many of the changes are set to become a permanent fixture. "We're going to go forward with the model of fewer people and more time slots," she says.
The new policies are also likely to carry over to winter operations, which include a snow tubing park. Muncaster says the model is not unlike ski areas that limit lift tickets to shorten lift lines, or national parks that have toyed with the idea of capping entry to protect the environment.
At Snow King's Treetop Adventure, the reductions in the number of people on the course made for a better guest experience for everyone, says Muncaster, not just those who could afford to pay for a private tour.
After all, she says, guests are paying for an adventure among the trees of the Grand Tetons, surrounded by nature—not a crowd. "You don't want to be up on the course with a whole lot of other people, Covid or not," she says.
THINKING DIFFERENTLY
For the three operators profiled here, pandemic-induced limitations forced a rethinking of the guest journey and on-site experience, oftentimes resulting in a better overall product and more revenue. Sometimes the most difficult situations yield the most successful solutions.