On the islands of Hawaii, there are zip line operations and there are agricultural farms, but only one property—on the island of Oahu—offers both rolled into one.
The CLIMB Works Keana Farms zip line tour, which opened in 2014, has the distinction of being the only zip operation in Hawaii located at the center of an active working farm. With panoramic ocean and mountain views, the zip tour on the North Shore of Oahu is a thoughtful partnership that provides fun and educational components for tourists while supporting Hawaiian culture and its local community.

DREAM ISLAND
Owner Nick Thompson says the Tennessee-based CLIMB Works, which opened its Smoky Mountains zip tour in Gatlinburg in 2010 and also offers park building and design, became interested in Hawaii after building several zip tours for clients on Maui. "We fell in love with Hawaii and thought it would be a great place to expand our operations," says Thompson.
At the time, there were no zip lines on Oahu, a far cry from the other Hawaiian islands, which were "saturated," with at least four or five aerial operations on each, says Thompson. "It seemed like a good fit for us."
Like generations of big wave surfers, the CLIMB Works crew was interested in the lush North Shore side of the island, which was oddly lacking in economic opportunities, despite the fact that Oahu is the most visited of the Hawaiian islands.
Mutually beneficial arrangement. Thompson stumbled upon Keana Farms after looking at an unavailable property five minutes down the road. As it happened, its owners had been looking for supplemental income, as the farm had been struggling to pay for the increasing cost of land despite producing more than a million pounds of produce a year. It agreed to lease nearly 100 of its 430 acres to CLIMB Works on a 10-year lease with multiple five-year renewal options—essentially a 25-year lease.
"Our zip line tour concept added a great additional revenue stream for the landowners and was a great way to explore a working farm without interrupting its operations," says Thompson.
While trying to keep up with expenses, farmers on Oahu are also focused on preserving farmland, and to gain its lease, CLIMB Works had to show that it could navigate the farm without affecting it. One requirement: The zip tour operator must agree that 50 percent of the (total) land would always remain farmland. "Which was fine," says Thompson, "we weren't trying to disrupt the farm, just supplement it."
"We knew our operation wouldn't disturb the natural country landscape, while also offering job opportunities for that area," adds Thompson. CLIMB Works Keana Farms now supports more than 90 local jobs as well as providing land for local high schools to use for agriculture education programs.
PERMITS AND MORE PERMITS
There were other unusual permitting issues, starting with Oahu's stance to not allow any zip lines on the island. "When we started going after a permit, we couldn't even call it a zip line at first," says Thompson. "We were calling it a 'human aerial transporter.'"
Other considerations included strict height restrictions (nothing over 25 feet) and, initially, capacity restrictions. "We had to be creative," says Thompson. In all, it took sister company CLIMB Works Design two and a half years for permitting and another year to complete the build.
Creative solutions. To work around the height restrictions, which Thompson says have eased a bit over time, course designers relied on topography. "Not having height on a gravity-based zip line creates problems," says Thompson. "Instead of having 10 platforms, we might have 15, because now we had to use bridges and boardwalks and stairs to traverse the land versus putting higher towers to zip from tower to tower. It actually created a much larger build to make up for the loss of height."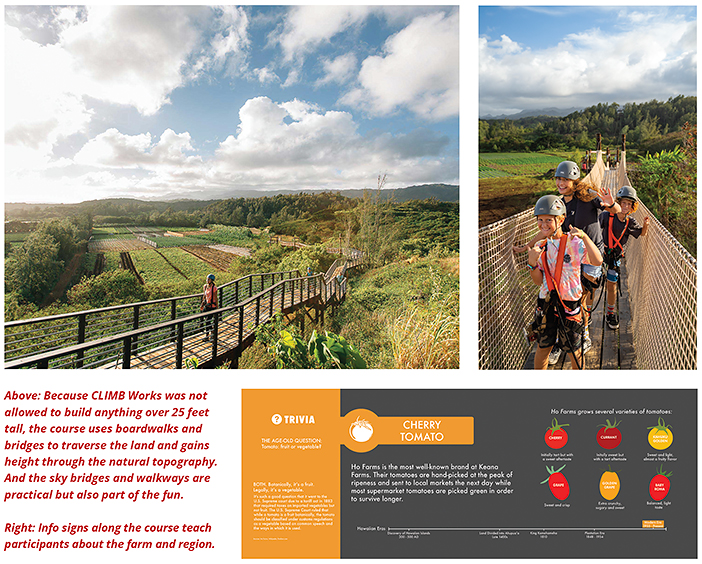 The workaround increased the size and scope of the project by about 30 percent, which added to build time as well as construction costs.
To avoid disrupting farm operations, CLIMB Works stayed predominantly in non-farming areas of the property—hilly land made up of coral and volcanic rock. "We were going for elevation up in the hillside and in the forest, which isn't good for farming anyway," says Thompson. "It's complementary, because we were able to use the areas they weren't using, which makes it a more sustainable property."
A mantra in the North Shore of Oahu has long been, "Keep the Country Country." Compared to built-up areas like Honolulu, it's still a relatively unspoiled landscape. Thompson says CLIMB Works' objective was to help the area economically while blending into the existing landscape.
"We're trying to help people explore a natural environment, not change the natural environment," he says.
To this end, the crew was minimalistic in terms of road building and tree clearing. Roads required for construction were built to be sustainable and can be revegetated. Natural colors and materials that blend into the environment were prioritized, including bamboo from the farm, which was cut and utilized in some boardwalk railings.
KEANA FARMS TODAY
Today, CLIMB Works Keana Farms offers a thriving zip tour that saw more than 60,000 visitors—mostly tourists, but some locals, too—in 2022. The farm and zip line operations are completely separate, but CLIMB Works supports the farm through the purchase of produce, which it uses in its tours.
Meanwhile, the farm continues to operate as farms do. Most of its produce stays on the island and is distributed through grocery stores and similar suppliers. Crops include apples, bananas, cherry tomatoes, papaya, taro, and fresh herbs, like basil. "Besides buying produce from the farmers for our tour, the farm is a bona fide business that we're not involved in," says Thompson.
Unexpected adventure. The zip operation includes eight dual lines ranging from 500 to 2,400 feet long, two rappels, three sky bridges, and a 15-minute guided UTV excursion to start the tour. The UTV ride is a unique element used to transport tour-takers while educating them about the working farm and the Hawaiian culture.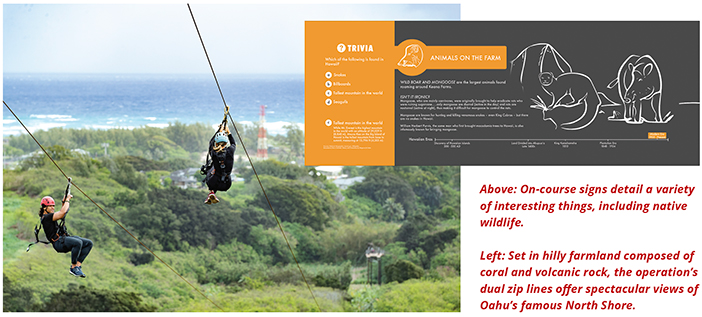 "We like to have a variety of experiences in our tours to create a unique and unexpected adventure," says Thompson. "We also lean heavily into education about the areas we're exploring through educational plaques throughout the tour and our guides teaching about the culture and history."
Guides travel through the farm, pointing out different crops and providing info about the farm as they're heading up, says Thompson. Educational plaques, which focus on the main eras of Hawaii's history, dot the UTV route. Visitors learn about ancient Hawaii and its way of life, the era of sugar cane plantations, and today's modern era led by tourism and other industry.
"We also educate about the working farm and share fun, local stories unique to the North Shore," says Thompson. "People might come out looking for an adrenaline rush, but they leave with a better understanding and respect for Hawaii and its rich history."
Visitors, aptly, also get to eat, snacking on a smorgasbord of fresh farm offerings like cherry tomatoes, bananas, and macadamia nuts. (Due to another permitting stipulation, food cannot be "prepared" by CLIMB Works, so visitors get a sort of raw diet by default.)
Only one three-hour "full tour" is offered, for $180. "We don't do different options because we want everybody to get the same experience," says Thompson. "It keeps the experience consistent."
Valuable partnerships. The zip tour does partner with several local activity providers on packages, including the nearby Polynesian Cultural Center (a "sort of Polynesian Disneyland" with a night show) and the working Gunstock Ranch, which offers horseback tours. It's a proven model that has worked well for the Smoky Mountain operation, where partners include a rafting company and a lumberjack theme show.
"We found like-minded activities that are complementary to ours and created packages around that," says Thompson. "We are very selective about who we partner with and are also aware of what kind of volumes they can do—it has to be equal to our own." Or higher: The 42-acre PCC is "Hawaii's #1 visitor attraction" and welcomes approximately 700,000 visitors per year.
One element that's unusual, says Thompson, is that no commissions are exchanged between the three partnering businesses; instead, each offers a slight discount that's passed on to the customer. "Instead of trying to get a commission off of everybody, the customer gets the benefit," he says. "We don't have any commissions, we are all just trying to create a good package and bring more people to the North Shore."
On the Horizon
As for the future of CLIMB Works Keana Farms, growth is on the horizon, though Thompson is staying mostly mum about the details, other than that there are "some fun expansion plans" in the works that will cater to a wider range of demographics.
He did note the expansion will include an integrated cable and rail zip ride system that can seamlessly handle curves. "They have ways to motorize [zip rides]now, which leads to lots of possibilities about what we can provide," Thompson adds. "Our expansion is all about that area."
The expansion will also include a new scenic e-bike tour, which will have multiple interactive stops, including canopy walks, lookouts, and adventure playgrounds. The e-bike will be a mellow (think green trail) scenic ride.
All new activities, says Thompson, will focus on exploring the beautiful Hawaiian landscape through fun and creativity.
"Our goal is to find creative ways to preserve land in Hawaii and allow others to see Hawaii in a natural and beautiful way," says Thompson. "Our operation [at Keana Farms]guarantees farming will remain on the land for future generations."