"Waivers aren't worth the paper they're written on!" We have all heard someone say this. Are they correct? Are waivers useless? The answer is no. In fact, a waiver is a very useful and valid legal document—IF it is created and used properly.
Unfortunately, many operators get their waivers online and simply put their company's name on the document. In this case, the waivers probably are useless. To be effective, each waiver must be carefully designed for your company, its operations, and the state(s) you are operating in.

Let's take a look at some of the most common waiver questions that are asked, and the important principles behind each question.
1. ARE THERE ADVANTAGES OR DISADVANTAGES TO DIGITAL WAIVERS OVER PRINT?
We often get the question, "Will our insurance company allow us to transition to digital waivers?" Yes! In fact, your insurance company would prefer that you switch to digital waivers. They have the following risk management advantages over paper waivers:
Retention: Digital waivers are easier to retain for the time period required in your state. Since they're stored electronically in the cloud, they are also not subject to being lost or destroyed by fire, flood, etc.
Validity: Digital waivers can be traced back to the computer and IP address where they were signed. If you have cameras in your check-in area, the time the waiver was signed plus video footage can verify it was the participant specifically who signed the waiver.
Languages: Waiver systems can translate the text to appear in multiple languages. This is important because not all of your guests speak English, nor should they be expected to comprehend a waiver in English. This is a legal argument waiting to happen.
Font size: Waiver systems allow the participant to increase the font size as needed. We cannot expect everyone to have good enough eyesight to read the tiny font on some of the printed waivers.
2. DO WAIVERS HOLD UP IN COURT?
If the waiver is valid and the injury happened due to an "assumed risk," the liability waiver should protect your organization. Of course, a whole article could be written on whether a liability waiver is enforceable or not, but let's focus on the main issues regarding three (3) key areas:
Is the waiver valid?
• Was it signed by the actual participant referenced in the waiver?
• If for a minor, was it signed by his or her parent or legal guardian? (Not just someone watching the kid for the day, or even his or her grandma.)
• Is the waiver in violation of any state laws?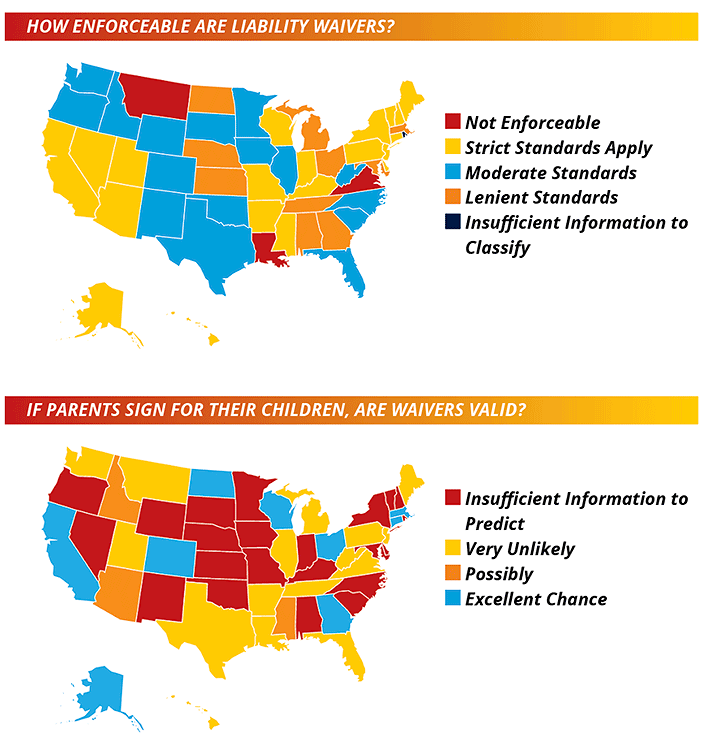 What risks are assumed?
• Does the waiver properly notify the participant of the risks that are assumed in these types of activities?
• Are the risks reasonable to the activity? For example, a tower collapsing is not a reasonable risk to assume. However, a bug bite or trolley pinching your fingers is.
What are the state/jurisdiction requirements?
• States are very different in what they require for a liability waiver (or assumption of risk) document to be enforceable, so it's absolutely critical to work with an attorney who knows the recreational and amusement law within your state. It's worth the money.
3. CAN YOU USE WAIVERS TO COLLECT DEMOGRAPHIC INFORMATION ABOUT YOUR GUESTS? IF SO, WHAT ARE THE BEST PRACTICES?
Yes, you can use waivers to collect demographic information, but you have a duty of care to protect this information. Medical information should never be collected on a waiver, as you would then be subject to protecting that information under HIPAA rules and guidelines.
For contact information, everything is fair game. However, you are now collecting Personal Identifiable Information (PII), which requires an extra degree of protection, plus notification requirements if a security breach were to occur. Data breaches are very common, and cost an average of $40 per possible data-record breached in notification costs (notification is required by federal law). Note: If you keep personal information, you should look into cyber liability insurance.
4. HOW LONG ARE WAIVERS VALID FOR?
If your waiver does not specifically state the time period for which it is applicable, this ambiguity can hurt you in court. For example, in a court case involving a minor who was injured on his second visit to a trampoline park, it was ruled that the waiver signed by his mother on the first visit did not apply to the incident, since the waiver did not state the time period for which it was applicable.
It is highly recommended that a waiver be signed each time someone visits your facility. This eliminates a lot of potential errors: losing the first waiver, the expiration of the time period, changes to your "assumption of risk" list due to activities changing, etc.
5. SHOULD YOU RECORD A GUEST'S WEIGHT ON THEIR WAIVER?
If you didn't post your adventures on Instagram, did they even happen? The same is true for guests and their weight. If you are not documenting their weight somewhere, from a legal perspective, it can be assumed you never weighed them. Documentation is key. What better place to store this information than on their waiver? Of course, digital waivers are a huge advantage here, because this sensitive information is protected in a more secure environment.
6. CAN YOU USE A WAIVER FOR A GUEST WHO WANTS TO OPT IN OR OPT OUT OF A COMPANY POLICY, SUCH AS THE REQUIREMENT FOR CLOSED-TOED SHOES OR HELMETS?
Waivers are a great place to do this, but make sure it is in a separate section—and even has its own initial and signature requirements. The legal aspect of this document should not be confused with the participant requirements. Keeping these in two different sections will reduce the "legal argument" that the participant thought they were agreeing to something else (i.e., only the foregoing of helmets instead of the waiver section).
When addressing such things as helmets, closed-toed shoes, etc., make sure it is clear that you strongly advise the participants that they SHOULD use these things, but they do have the option to forego, and they also acknowledge that this increases the chance of injury and/or death. The statement about the increased risk of injury or death should have at least an initial section beside it so guests can acknowledge that statement fully.
Risk management is a topic you should discuss with your insurance adviser and attorney on a regular basis. Don't let this slide and cost your organization hundreds of thousands of dollars due to a simple mistake.
Cameron Annas is the Adventure & Entertainment National Practice Leader for Granite Insurance.