The 6th annual Adventure Park Insider State of the Industry survey revealed a surprisingly strong year for aerial adventure parks, camps, and traditional experiential programs in 2021. The data, collected from 155 operations, provide a comprehensive business and operations review. 
Here, we share some brief takeaways from the full State of the Industry Report. Reminder: The full report is complementary for Adventure Park Insider subscribers.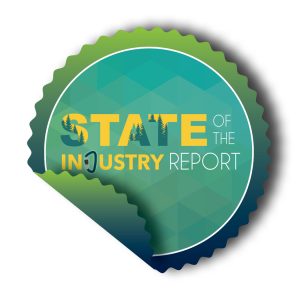 A better bottom line. The data, collected in October and November 2021, show that despite another season with some capacity limitations and operational restrictions, survey respondents saw visitation return to near normal, down just nine percent from pre-Covid 2019 levels. Even better, revenues actually showed an increase from 2019 for many, and expenses broadly declined.
The data also show that pandemic adaptations led to operational efficiencies and more visits per day, both positive signs for the future. Those efficiencies and the near-normal total visitation led to even better bottom-line results than in 2019.
Respondent categories. The survey segments the data into two primary categories, recreational and traditional, based on their primary type of business. Of the total, 54 percent were recreational respondents and 46 percent were traditional. The survey also pinpoints differences based on size of operation, allowing operators to benchmark their performance against the broader sample.
We also segment the data by operations' cornerstone activities—zip line/canopy tour, aerial adventure park, high/low ropes, and ground-based experiential—to explore the unique characteristics of each type of operation more deeply, where appropriate.
Visitation trends. While 75 percent of respondents operated in jurisdictions that imposed some level of operational restrictions as a result of the pandemic, capacities were just 28 percent below 2019 levels. The average respondent operated for 10 percent fewer days as well. Even so, per-day visits rose, and overall visitation approached the totals for 2019 for many. 
On average, recreational operations increased visitation by 44 percent over 2020, and many were able to report numbers on par with or above 2019 levels. Traditional operations reported an increase of nearly 20 percent compared to 2020, but were still more than 10 percent below the levels of 2019.
Revenue trends. Revenues, on the other hand, showed a five percent rise compared to 2019, as operators were able to increase prices (or avoid discounts). On average, operators increased their per guest revenue by 13 percent over 2020, and, more impressively, by 25 percent over 2019. Recreational operators also saw the return of services such as food and beverage, lodging, and retail, as restrictions on indoor capacity eased.
What's in the full report? The full report, complementary to survey participants and Adventure Park Insider subscribers, includes greater detail on a wide variety of metrics, broken down by operation size (small, medium, and large) as well as by type (recreational park or traditional experiential program), to allow operators to compare their results to their peers. The report includes data regarding activities and amenities offered, major sources of revenue, detailed visitor trends, staffing and pay levels and related employee metrics, booking trends, marketing channels and their effectiveness, pricing strategies, and operators' expectations and plans for 2022.
How do I get a copy of the report? The State of the Industry Report is complementary to subscribers and survey participants.  Subscribe now to get guaranteed access to this valuable and actionable information and insight.