Kees-Jan Verwaal built his first simple aerial adventure elements 14 years ago for a backyard garden in France. Today, his company, Netherlands-based Funcha!, designs and constructs cutting-edge adventures around the globe, from South Africa to South Korea. His evolution from landscaper to aerial innovator has progressed fast and serves as a reminder that standing still in the adventure park industry is rarely an option.
While Verwaal and Funcha! dream big, they are grounded by four core values:

A deal is a deal.
We take action ourselves.
Our communication is open and sincere.
Nature has our respect and is our passion.
These all stem from Verwaal's overriding desire: to make the world a better place  and, especially, a greener place. While he's gratified by the many successful projects he been associated with, Verwaal continually looks for new challenges, new adventures, and higher standards.
Adventure Park Insider Zoomed with Verwaal this spring to explore his vision for the industry and understand how all this came about.
API: How did you get your start in the industry?
Kees-Jan Verwaal: I started my first business when I was 20, a landscaping company, a very small one. I was doing private gardens, eventually moving onto bigger gardens and large landscaping projects. The first inquiry for a ropes course was in 2007. This client had a house in France, and he asked me to build a ropes course in his garden.
I had never come across a ropes course before; in the Netherlands it was still a young industry. So, I started looking into it. I went to France, and to Luxembourg, and explored some forest-based ropes course builds. And it really got me. I thought, "This is my next step in life." But I wanted to do this in a much better way. The builds I saw had no connection with nature. It was purely technical builds in the trees. You could go there, and it was nice to do because it's fun to be at height and in the trees, but the landscaper in me wanted to do more. In 2010, we built our first real-world course in Belgium.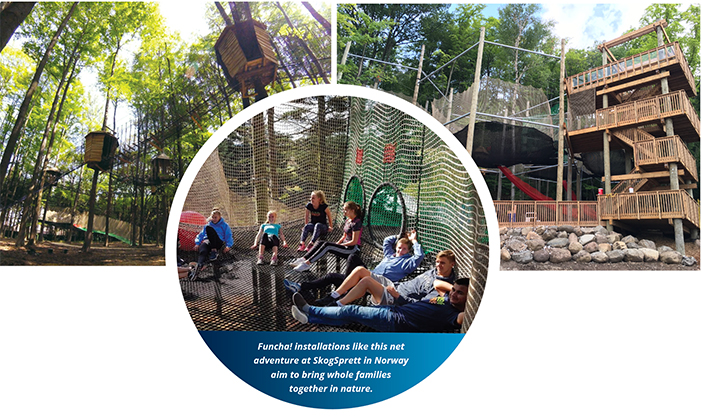 API: A core value of your company is "Respect Nature." How does this come together
in your builds? 
Kees-Jan: We are always connected in nature. So everything we do has to do with that. If you do something that negatively impacts nature, you have to make a recovery plan.  
I personally feel that, as human beings, our existence causes some level of harm. We can't avoid it because we're here. We try to keep [our impact]as small as possible. We all want that, and we try to achieve that in such a way that people don't feel forced to do it; they are more guided to do it. And they see that our installations are not harming the trees. We build in such a way that we can promise to give the forest or the area back to nature after we use it. 
We have developed a tree-friendly build system. You can adjust the installation a couple of times a year as the tree grows.
And, typically, this costs money. Total cost of ownership is obviously a very important part of the business. It needs to be profitable, and we understand that without profit there's no life. So it has to be profitable. And it turns out, if you build with respect for nature, it's even more profitable for the operator. 
API: You do a lot with netted adventures as opposed to relying on belays. How did that develop?
Kees-Jan: Netting is very popular at the moment. About four years ago, I was in France and saw my first netted installations. The same thing happened as when I saw my first ropes course. I said, "Wow, this is nice, however, we'll do it with less impact on the environment. We are going to develop an installation that is profitable for operators, with limited harm to nature." We've built installations here in the Netherlands, in Norway, in Canada, and the UK.
We did a really nice project in a quarry in the south of the Netherlands—an indoor, artificial structure that fit the underground environment. This project turned out to be really interesting.
We built a 20-meter-high steel tower, which is completely surrounded with big nets and tunnels connecting the nets to one another. It was really difficult, because we had to drill anchors into the wall of the quarry, which required some complex engineering and someone who was familiar with stone and reinforcements and vent areas and working in the dark, and with the bats. There were a lot of bats.
We have quite a few net adventure projects in the pipeline. We still do zip lines and ropes courses for operators, but I think net adventures are really the future.
API: Are operators and patrons beginning to re-emerge and think about what they're going to be doing once the pandemic has passed?
Kees-Jan: I'm not sure how it is in America, but I think it's the same as here. People are really bored of the pandemic. Hotels are closed, restaurants, everything is closed. People want to go out. You see a lot of people hiking, running, any outdoor outing. Last year some of our clients had their busiest year ever if they could open, but not all of them were able to.
We're doing a special project in the UK. It's going to be six or seven big projects in one go. It's a ropes course, a big net adventure, it will have power fan jumps, and a big airbag jump. 
As part of this project, we are going to be tested through the Amusement Device Inspection Procedures Scheme (ADIPS), an engineering certification process. We will be checked on all of our engineering before we do anything or complete any fabrication.
They also review quality, health, and safety during the build. And once the build is finished, they will certify the build site. That certification is the highest level you can achieve in the world of entertainment. For us, that's the next step in progressing as a company.
This industry may not be ready for the next step, but I think we need to get ready. How do we build things? How do we think about service? How do we think about the customer? All of us need to get ready to do the next level, the next step.
API: Can you describe how you work with your customers, how you interact with them?
Kees-Jan: We developed a strategic plan in 2019. Our ambition is providing people the best offline experience in nature. So, as long as we can see people happy, smiling, enjoying our projects, we are going to be happy as well. It's always nice when we have new clients who are happy to be guided to that point, to that achievement. 
When you do feasibility studies, it's all about honesty. If you want to survive in this industry, you have to be really honest and do what you promise. So, one of our values is very simple: a deal is a deal. We do make mistakes. We make a lot of mistakes. But we always resolve them.
It hurts sometimes, because we do things where we don't know how it will end up. And sometimes it costs a lot of money. But at the end of the day, if it's done right, and it's working, and people are again happy, it's OK. It's a learning process, it's development.
We often ask ourselves, "How can we improve this industry?" Because I started out as a cowboy.
API: It seems that just about everyone started as a cowboy in this industry.
Kees-Jan: Yeah. We really think that we should help everyone who started as a cowboy get to the next level as soon as possible. Whether it's a competitor or a client, we all need to get to that next level.
API: So, after getting your start by learning from others, you are now trying to set the
example. You're aiming to be the standard that other people are trying to achieve.
Kees-Jan: Yeah, but we don't really want to be that. We want to show that everybody can achieve this, but we need to be there together. It's not that we are important, it's this industry that should be important. And actually the end users are the most important people in the industry. That's another reason why we were really happy to find a client who wanted to go for ADIPS.
API: It sounds like you're saying that since this is a relatively young industry, it still needs to keep raising the standard as much as it can and as fast as it can.
Kees-Jan: Exactly. 
API: Where do you think the industry is going to head after Covid is in the rear-view mirror? What sort of trends do you see?
Kees-Jan: What's really happening because of Covid is that families need to be entertained. A zip line is for a person, but an attraction park is for a family. So, the ropes course industry, or net park industry, or zip line industry, we all need to think of how we can entertain the whole family. I think that's really the trend for the future. You can give the little kids a nice zip line, a mini zip line, and a net adventure is suitable for kids two years old all the way up to 70 or 80 years old.
I think family entertainment in the outdoor industry is the way forward. It's about getting families together in nature, doing outdoor activities in safe environments.
The standalone installations will be difficult, I'm afraid. They need to offer more. If the family wants to go home because the little kid is bored, your operation has made a mistake.