No Child Left Behind
The playground was designed to address all types of disabilities; including blind, hearing impaired, and kids on the autistic spectrum. Autistic kids and those with Asperger's syndrome benefit from the "Cocoon," a fine mesh net device that they can crawl into and spin around. There are also "hidey places" in specific areas, where kids can escape the chaos and decompress if need be. Both elements are helpful to kids with autism.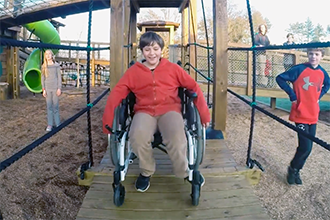 The park has a number of small design features that make a big difference for those with disabilities. For instance, there's netting surrounding the ramps so the blind can feel their way uphill, and engineered wood fiber surfacing that makes it easier to maneuver a wheelchair.

The playground has two sky hammocks, which are essentially cargo nets strung 8 feet off the ground, measuring 20 feet by 20 feet at its central level. One thing that surprised Fischesser at the January opening was the number of folks—kids and adults—who congregated in the hammocks.
"We were hoping to get kids to interact in the giant net and become friends," says Fischesser. "What we realized was that the sky hammocks were real community builders. Everyone was hanging out in them, having fun, and talking. It became a place where people could meet other families and hang out, like a park bench."
A History in the Outdoors
Fischesser, who spends about a third of each year sleeping on the ground, has a long, hands-on history working with kids in the outdoors. A passionate Boy Scout from an early age, he was involved with Outward Bound in the 1970s and 1980s. He started out as an instructor and program director at the North Carolina Outward Bound School, and later at the national headquarters as director of the National Training Institute. In October, Fischesser received the Kurt Hahn Award—the highest honor given by Outward Bound in the U.S.—presented annually to a person who exemplifies outstanding service to the organization's mission.
Something he's most proud of is The American Adventure Service Corps (TAASC), which he created in 1996. The non-profit targets youth ages 8 to 18 and focuses on growth through outdoor education and community service. Fischesser calls it a blend of Scouting, Outward Bound, and the Peace Corps. Kids come into one of the program's two North Carolina-based branches at age 8 and ideally graduate at 18. Those 10 years are spent exploring (think mountaineering in the Canadian Subarctic) and giving back (digging ditches for the USFS in the Linville Gorge Wilderness Area).
"This is the main thing I enjoy in life, working with these kids," says Fischesser. "These other programs were born to support this non-profit program for kids."
Expansion Plans
Fischesser says the new playground has received a lot of interest, and Beanstalk has already come up with three different sizes/versions of it for prospective clients. It will be marketed as "Everyone's Beanstalk Playground." Look for it soon at a park near you.