Bristol Mountain Aerial Adventures in New York has cut the ribbon on its newest feature: a zip line canopy tour.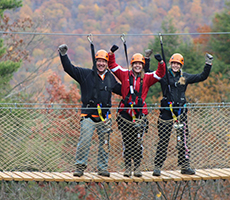 The tour includes a series of seven zip lines spanning a total of 5,000 feet in length, plus four suspension bridges. This new attraction expands upon the existing aerial adventure park that was installed in 2015.

Steve Fuller, the project manager for the zip line tour said, "It is our mission to inspire multiple generations to enjoy a healthy, active lifestyle, in a natural environment."
The course took approximately six months to organize and construct. It begins with a shuttle to the zip line site via all-terrain military vehicles, which were purchased at auction from Fort Drum and Fort Bragg. The tour culminates with a "leap of faith" on an auto-belay device.