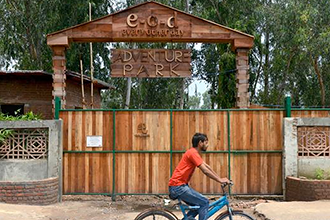 The first adventure park to be built in Delhi, the capital of India, will open in September. The 6.3 acre park will be next to Sanjay Lake in Mayur Vihar and includes spider webs, a Burma bridge, quad biking, monkey crawling, and water sports.
The park is being built, operated, and managed by an unnamed concessionaire hired by the Delhi Tourism and Transportation Development Corporation, which has taken over the land from the Delhi Development Authority under a license fee and revenue sharing basis.

"The adventure park would be the first of its kind in the capital and will offer Delhiites the option to enjoy soft adventure sports right in the city," Ravi Dadhich, general manager, told local media.
Dadhich said the park will have no buildings or permanent structures, as it utilizes only rope and bamboo-based structures. The Indian government is helping to fund the project.