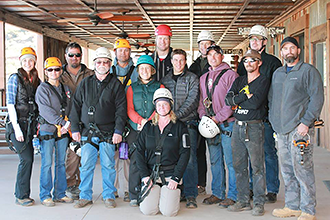 Arizona Zipline Adventures in Oracle, Az hostes their Grand Opening on January 29.
The ecotour features 5 zip lines spanning 400 to 1,500 ft in length, including a dual zip over the Sonoran Desert on which riders can reach speeds of up to 50mph. The site, which began as a cattle ranch, is now home to Southern Arizona's first and longest zip line.

The development and construction took place over 18 months. "Our entire course, high and low ropes included, were built to meet and exceed the standards set by the Association for Challenge Course Technology." says Emily Goff, one of the four developers of the tour.
Arizona Zipline Adventures will be offering zip tours, low ropes, team building activities, gold panning, as well as moderate hiking trails. For more information visit www.ziparizona.com.