The Adventure Park at Nashville, a new tree-based aerial adventure course, will be opening on June 9, 2018 in the West Meade area of Nashville, Tenn. The park, constructed and managed by Outdoor Ventures, LLC, is located on approximately five acres of woods on the grounds of Gordon JCC.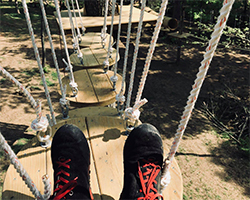 The park will feature 12 distinct "aerial trails," each with a unique color designation. The trails will include zip lines and challenge bridges between tree platforms. The trails range in difficulty and age-appropriateness—from those designed for guests as young as 3 years old, to advanced trails at heights of up to 50 feet off the ground.

"We can't wait to bring this wonderful experience to the people of Nashville," said Outdoor Ventures CEO Bahman Azarm. "It's a fun outdoor activity, it's wholesome, it makes people feel great, and it brings families and people together."
Outdoor Ventures operates six other parks in Maryland, Virginia, New York, Connecticut, and Massachusetts.
Learn more about The Adventure Park at Nashville by visiting www.mynashvilleadventurepark.org